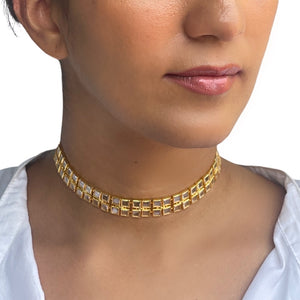 Polki is a art form that has rich history and is often associated with royal and aristocratic traditions in India. It was highly prized among the nobility and used to create elaborate and opulent pieces that showcased the wealth and status of the wearer. Over time, Polki jewelry has evolved to cater to contemporary tastes while still maintaining its cultural significance.

Non-allergic and Anti-tarnish
Handmade with love, by women artisans in India.
Materials: Clear Quartz, Brass, 24k gold plating.
Size: 16-18" in length.
Free shipping over $50 in the US.
Please allow up to 7 business days for all international orders.